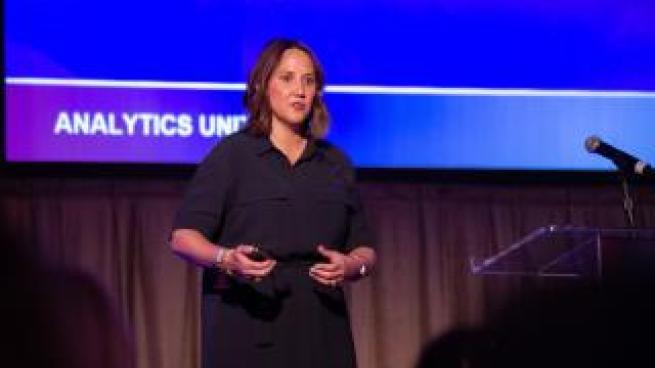 Walgreens Fosters Sustainable Data Partnerships
"We're not going to be in business if we continue to pay the way that the models are set up today," she explained.
For example, while a tech company may give WBA an 80% discount, the retailer may still need to purchase 350,000 licenses, and the tech becomes too expensive.
"We need new models of how to buy tech and so that it becomes successful," Salo said. "We can start to build all of these solutions together and that ecosystem to really help drive improvements for people's lives. We need seamless data flow and to leverage AI. Machine learning will be a key enabler to our vision. These will help manage care, so partners are welcome." 
Since 2020, WBA has partnered with Tata Consultancy Services for labor provided solutions; Microsoft and Adobe to create personalized, omnichannel shopping experiences; and Verizon to power enhanced digital consumer experiences. This year, Walgreens partnered with Doordash and Uber to provide free, same day delivery of HIV medications.  
Salo joined WBA in 2019 and six months later her procurement leadership job dramatically evolved due to the COVID-19 pandemic. Local, neighborhood health care became more prevalent in people's lives, and Walgreens administered 67 million COVID-19 vaccinations, 16 million boosters and more than 12 million COVID-19 tests.
As a company, WBA employs more than 325,000 team members, including 31,000 pharmacists, in nine countries. The retailer reached nearly $133 billion in sales globally in fiscal 2022, and filled almost 820 million prescriptions, including immunizations, during the same time period. Walgreens has a footprint of 13,000 locations, with almost 9,000 U.S. stores. About 78% of the U.S. population lives within 5 miles of a Walgreens or Duane Reade pharmacy. Walgreens' loyalty program, which it relaunched in 2020, has 102 million active U.S. members as of August 2022.
During the pandemic, Walgreens launched 30-minute pick up, delivery for prescriptions by end of day and delivery for more than 27,000 retail items within two hours for basket sizes of $35 or more. Still, with third-party delivery services, such as Uber Eats, and restaurant chains offering delivery in less than 30 minutes, retailers will need to keep innovating to meet the next generations' demands and expectations, Salo said.
"It made me realize how the technology, the inventory, the order management and seaming all of this together across almost 9,000 locations to be able to make these initiatives happen is so, so important," Salo said. 
Walgreens' procurement team has built a team culture that sparks creativity and drives innovation. One way the procurement team does this is by visiting stores.
"These insights my team members are getting are helping us understand and be able to partner with our third parties and articulate the challenges first hand about what our store members and pharmacists are experiencing and bringing it to life in these partnerships," Salo said. "It's not so transactional, it's real, it's emotional and it's personal."
As WBA's relationships with consumers and patients demand trust, convenience, and accessibility, the company will continue innovating to deliver it.
"To best meet the needs of customers and patients, we offer the true omnichannel experience with fully integrated physical and digital platforms supported by the latest technology to deliver high-quality products and services in our communities," Salo said. "Let's improve health outcomes, let's build sustainable partnerships and let's bring data to life to improve the lives of all Americans."
This article first appeared on the site of sister publication Retail Leader.